Facebook-owned platforms are probably amongst the most widely used and popular platforms today, and Instagram is one of them. Instagram marketing is in such high demand nowadays that marketers are always looking for Instagram tips and tricks to help them grow their audience and, by extension, their revenue.
The numbers don't lie on that one. Facebook – i.e., Facebook-owned platforms – gathers an astounding 274 billion active users. This means that marketers, businesses, and anyone trying to build a brand or maintain its image are looking for a legit tool or two to grow their Instagram account.
However, this is not as simple as it sounds. Let's see why.
What Is Instagram Automation?
Instagram automation is the action of managing an Instagram account using third-party software that allows you to sit back and relax as it takes over social interactions. Such as likes and shares or behind-the-scenes work, such as scheduling Instagram posts or gathering data for your analytics.
Instagram automation tools are essentially little bots that interact with your audience. They can be programmed to do X tasks after Y triggers, including automating comments, automating likes, and others, allowing the account owner or marketer to do more important things.
Since Instagram is such a popular platform, I'm sure you think using automation tools for something like that is pretty logical and expected. But this is not precisely the case. You see, much like Email Service Providers (ESPs) don't much like the idea of spam emails, Instagram doesn't like the idea of non-human interaction. And it does try to contain it – or, in some cases, eliminate it.
And you've probably seen it, too; you just haven't paid much attention. Remember the times when your follower count drops, and you just have no idea why or the times when you encountered comments like this one:
(source)
This was a bot – or Instagram automation if you will.
However, it is essential to understand that Instagram bots and Instagram automation tools have a fragile line of difference between them. Let's have a look at another name of Instagram automated functioning.
What Is An Instagram Bot?
An Instagram bot helps businesses and enterprises automate their interaction across the platform. Considering the advancement of the internet and its rapid use among the audience – Instagram has become the first choice platform for online brands to interact with their targeted audience.
The use of different bots depends on the type of business for which you are using the automated tool. These bots are empowered with advanced programming techniques based on which they can like the posts, make comments, answer the polls, create direct messages, and follow new profiles on your behalf.
In a nutshell, Instagram bots take the burden off your shoulders of maintaining social business accounts. This process of maintaining the social accounts in a proficient cycle is helpful for businesses to build their online appearance effectively.
Generally, these Instagram bots are designed with the automation factor being the prime attribute for digital brands. Since Instagram has become the highly-used social media tool to interact with the audience, business owners must not neglect the importance of Instagram bots and automation tools.
Tying up the audience with the content and engaging them in the best experience – Instagram bots and automation tools are designed keenly to demonstrate these features from the frontline. These bots can do all Instagram-related activities, including the like and commenting stuff as well. It is impressive to execute the engagement tactics throughout your targeted audience via Instagram bots.
Related Article: Social Proof: What It Is and How to Use It (With Examples)
The Different Types of Instagram Bots:
Incorporating automated actions for audience engagement has become an everyday business action. Instagram bots and automation tools can take you one step closer to enhanced audience interaction. These tech-revolutionized bots have the capabilities to do more for your business and brand profile.
Companies using these bots usually compile them up in a group as per the division of the bot's tasks. Below is a breakdown explaining different types of Instagram bots based on their functions. Have a look;
Automated following of other people: This bot is designed while keeping the idea that if you follow someone in the same industry as you, they are more likely to follow you with the return. This would help your friends see your page, further resulting in more following.
Likes and comments on others' posts: This type of Instagram bot comments and likes the posts of influencers who belong to your industry. This is another effective way to collaborate with the people of your industry, and the brand looks more active with such activity.
Comments and likes your posts: This bot comments and likes your business posts to trigger the people to engage with the content. This strategic way of garnering the audience's attention is called crowd mentality, where it is easy to gather people for rapid execution of engaging content.
Instagram Automation and Bots – Yay or Nay? 
Using Instagram automation is risky because it's different. Other automation tools and platforms, like email marketing platforms or autoresponder tools, kind of have their work cut out for them. Your audience uses something you've set to be a trigger; your platform delivers a message in the form of an email newsletter, you're all set and done and not likely to suffer any losses.
But automating Instagram interactions means that a part of your social media marketing efforts won't be "authentic." And more than most Instagram influencers have demonized that.
However, this doesn't mean that there are no actions to automate or that automation tools for Instagram are a work of the devil and will get you and your brand banned from the platform.
Actions to Be Automated on Instagram
When talking about Instagram automation tools, we've got two categories: the frontend automation tools and the backend automation tools:
The frontend automation tools boost user interaction by leaving comments, likes, viewing stories, and generally interacting with your audience. This can build you a fanbase and make Instagram advertising very profitable, or it can get suspicious fast, as it could be considered "inauthentic activity," which goes against Instagram's Terms and Conditions.
The backend automation tools are the ones that marketers use for hashtags, reporting and analytics, and other similar actions.
While it looks like Instagram should ban all frontend Instagram automation tools and marketers should get on with their lives, this is not the case. There are plenty of workarounds and legitimate tactics that don't go against Instagram's best practices that fall under either category. Let's see what those are:
Reporting and analytics. These are among the most innocent tasks marketers automate, and automating them doesn't go against Instagram's best practices. At the same time, it allows you to make better predictions about your content and your audience's actions.
Upping your follower count. Through Instagram automation, you can find audiences similar to your target audience to engage and entice without buying followers.
Scheduling posts. If this action couldn't be automated, there would be no "non-spammy" action that Instagram automation could do. Use Instagram automation to find when your audience is active and schedule accordingly.
Instagram follows. If you use Instagram automation for a fundamental follow/unfollow level, then you're covered. However, if you're following, say, 20,000 people and only 500 follow you back, this could be considered spammy.
Likes, comments, stories. This is where things get a little hazy. You can automate likes as a task, and since it's not a "spammy" type of interaction and won't increase your traffic overnight, it could work. Automating comments isn't a good idea if you let your automation run rampant. You can automate comments if you use some "canned answers" to the most common words you get. This will save you a lot of time. And automating story views is kind of like automating likes. Interacting by viewing a story is not considered spammy but can help boost engagement with your target audience. You can generally automate actions with a low impact with social media automation tools or other growth hacking tools.
The dreaded DMs. This can go from zero to ultra-spam very, very fast. Never automate your DMs without personalizing them first. In any other case, your DM could end up in the "Message Requests" tab, and users will ignore it at best or flag your account as spam at worst.
Now that we've got the actions down let's check out the pros and cons of using Instagram bots.
Pros and Cons of Using Instagram Bots:
This is a no-brainer that technology and widespread use of social media has boosted automation tools' incorporation into businesses. As Instagram continues to be the most successful social media platform, digital brands are highly recommended to consider the Instagram bots to generate engaged audiences. Have a look at the described pros and cons of the tested Instagram bots so you can understand what to expect from these bots.
Pros of Instagram Bots:
First thing first, these tested bots would bring efficiency in engaging with the targeted audience. This is one obvious fact that improving these bots would simplify the entire cycle of connecting with the audience. Since bots are programmed with primary technical attributes, it is much easier for them to consider more data than humans.
Using the learning algorithms and machine learning, the bots can interpret more data with specific text-recognizing patterns. Furthermore, these powerful bots can send sensible direct messages to the person that positively impact his buying decision. These affordable and personalized Instagram bots can read the caption of the photo and leave appropriate comments on the posts.
Cons of Instagram Bots:
But these automated Instagram bots are not all rainbows and sunshine at all. They have a longer downside, and the cons list is quite lengthier than the pros. There are some negative side effects of using Instagram bots, and we would walk through them.
The way the bot is programmed directly impacts the commenting that it does across Instagram. For example, if you have personalized the bot to comment a smiley face on the posts, it would be doing the same under every post, even if it is sad. In this way, it is pretty clear that the bot's programming cannot result in genuine commenting, potentially destroying your brand. Also, these errors would go unnoticed until and unless someone would not notify you through DMS or notifications.
The debate is quite vague whether these bots generate unauthentic engagement or authentic ones. A thing that is done by a robot is not real at all and cannot attract new followers. These bots can also bungle up the entire news feed, which would not add value to your business.
The social media platform Instagram does not allow bots, and here these Instagram bots work by illegally accessing the APIs. Instagram is way too serious about its terms of use and policies and does not allow any Instagram bot application to work. These bots can also get you shadowbanned for going beyond Instagram's hourly and daily limits, so be careful!
The Legitimate Ways to Automate Your Instagram
Instagram cares a little more about user experience and legitimate engagement and less about photography and account growth. This is why it encourages people to report any suspicious activity and keeps a close-knit community, despite billions of users.
But how are you going to create authentic engagement using tools?
Hashtags and UGC
You can automate your Instagram actions by using tools to analyze your content and account and uncover relevant hashtags, followers, or even underused customer segments that you may not have considered yet. Use these hashtags to discover prospects, nurture existing leads through relevant content, and find User-Generated Content (UGC).
UGC is content that users have created for you and your brand by snapping photos or making videos and other types of content that you could use as marketing material.
Instagram automation will allow you to discover such content. After that, it will be your responsibility to reach out and ask if you can use said content.
Social Listening and Scheduling Content
Automating social listening will allow you to discover all the topics – and hashtags, of course – that your audience loves to talk about. And it could be anything, from keywords to testimonial videos to infographics – the list goes on.
Just make sure you pay close attention to what your audience is talking about when it comes to you or your competitors. This will help you find out what they love in terms of content and how they interact with the different types of content they come across.
And, of course, Instagram automation will help you figure out when to schedule your next Instagram post by showing you when your audience is more active and engaged.
The Right Way to Automate DMs
Instagram automation can be fatal for comments and DMs if one believes that generic, spammy answers can fly under the radar. However, there is nothing wrong with automating your DMs and comments if you can do it right.
DMs and comments are essential tools to the grander scheme of pr planning. This is why you need to take a deep dive into your data and figure out the patterns of your comments and DMs. Is there a frequently asked question? Use Instagram automation to create a canned response for that.
The same goes for most of your DMs, more or less. But there's a little twist to it: Your tabs.
A business account allows users to use tabs in their DMs and categorize their DMs into Primary and General. Using Instagram automation will help you make the most out of those categories and leave no DM unanswered.
Pros and Cons of Instagram Automation
Instagram automation, much like any other automation tool, isn't inherently good or inherently bad. But what are the pros and cons of using it?
It's a Time-Saver
This is the main reason any type of automation is developed in the first place. Marketers need to save time and resources, and it's more challenging to create a strategy that will help you increase engagement and, in the end, lead generation than targeting each user manually.
But It Can Be Spammy
Instagram doesn't exactly love automated messages, and audiences are far too wary of bots not to be able to tell them apart from simple people and report you for suspicious activity. So, automating your comments can come at a price, mainly if you use powerful words in your content.
Power words can look pretty spammy, and they can, all in all, frame you for inauthentic engagement. Instagram hates that and limits this activity by banning such brands and accounts from their platform.
It Can Give You Insight
Instagram automation can help you uncover your audience's "hidden secrets" that could give you better insight into what they need from your Instagram posts and your brand as a whole. After all, bots can distinguish patterns that the human eye can't, and this goes from interaction patterns to hashtags and preferences.
Understanding even the slightest interaction on a one-on-one basis will help you personalize your message and, as a result, grow your follower count and get more interested leads on board.
But You May Pay the Price
Sometimes, some interactions are too good or too crucial to miss and be handled by a bot. Just ask any chatbot user out there; they'll verify this statement. Now, the same goes for Instagram automation as well.
This is why you need to automate your Instagram marketing but at a specific scale. As a marketer, you need to spend time with your audience and interact with them personally. Otherwise, you won't get to know them in-depth.
10 Instagram Automation Tools You Need
Now that we've covered all the pros, cons, and legitimate ways to use Instagram automation and Instagram bots that can help you increase your follower count, let's see what kinds of social media management tools can help you play the field in a safe, acceptable, and Insta-friendly way.
1. Social Champ
This social media automation tool was built to help marketers increase engagement and, at the same time, automate procedures and save time and resources.
Social Champ enables marketers to schedule posts, track and analyze audience engagement and even respond to customer queries in a way that may be automated but won't be spammy.
2. Jarvee
It's not the most accessible tool, but it's worth it. Jarvee is mainly an Instagram automation tool but can be used for a plethora of social media platforms. It enables marketers to schedule posts, repost the highest quality posts in their niche, and automate follow-backs.
What is more, it allows marketers to search related hashtags that are high-performing and automate custom-made comments.
3. Keyhole
Keyhole is your go-to Instagram automation if you are willing to schedule posts, want to know how your campaigns perform, or your most popular content types.
Moreover, you can also create reports with follower growth and engagement metrics. You can even optimize your profile from detailed insights under the Optimization tab. How cool is that?
4. Hashtags for Likes
This one is particular, as it automates the way businesses grow their Instagram following through popular hashtags that target a large and valuable chunk of their ideal audience.
Using this tool, you can look up high-performing competitor hashtags, use analytics, and measure results based on the hashtags you're already using. Hashtagsforlikes is a tool that is on par with Instagram's Terms and Conditions.
5. Ingramer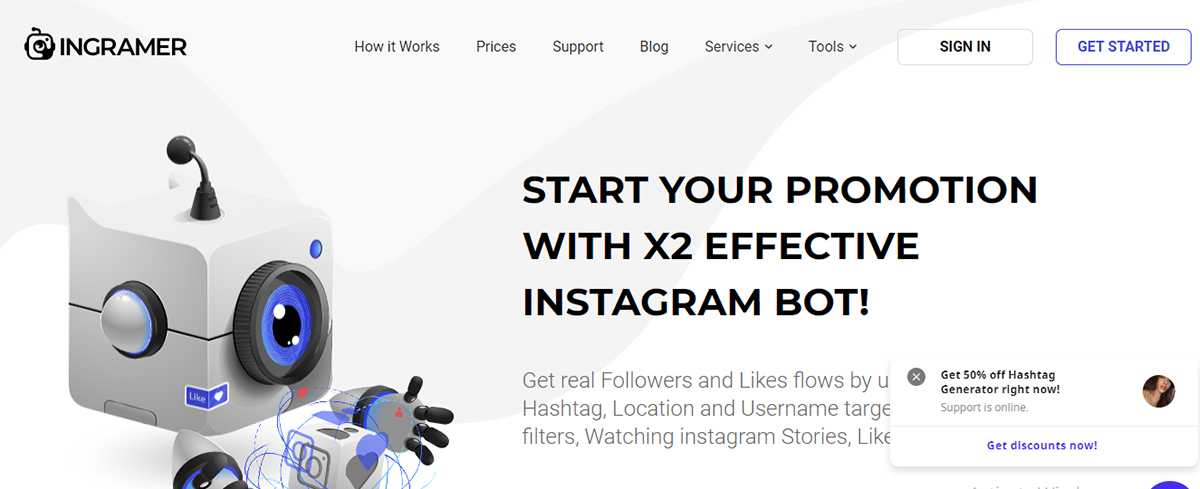 Ingramer is one of those Instagram tools that enables you to create and send direct messages in bulk. This tool also allows people to auto-follow and unfollow, including the auto like option for the posts.
With the help of this tool, you can generate suitable hashtags and schedule the posts as well. Ingramer also enables you to build loyal audiences, and with its personalized targeting filters, you can gain more engagement on your posts.
6. Kicksta
Kicksta is empowered with artificial intelligence and can be used as the growth tool for Instagram. Since it is powered with AI, it could create meaningful and authentic connections with enhanced engagement.
Kicksta offers two types of pricing plans; premium and standard. After choosing one plan, you can customize the dashboard as per your competition, audience, and brand. However, the results of Kicksta are pretty slow and time-consuming.
7. Upleap
If you want to grow your account organically, then Upleap is the automation tool for you. This Instagram growth account would allow your business account to boost organically without jumping manually in number.
The trial period of the service is for three days, and this duration doesn't need any card information. Upleap is empowered with the algorithms that allow the business to retarget and narrow down its target audience effectively.
8. Instamber
Another Instagram automation tool on the list is Instamber. It would enable you to automate the interaction with the targeted audience by sending direct bulk messages and scheduling upcoming posts.
Instamber is an entirely cloud-based automation tool so you can download anything on your device without the fear of viruses. Moreover, it gives detailed reports of the progress so you can track what's working and what's not.
9. Gramto
Talking about another Instagram automation tool Gramto that enables you to post for several Instagram accounts. This tool would also save the captions as drafts for future use.
Gramto also offers the options of auto like, follow/unfollow, direct message, and comment. Tracking features and product tagging are further integrated with the cloud platforms for advanced targeting capabilities.
10. Tailwind
Last on the list stands Tailwind, a popular tool for the automation of Instagram. Tailwind also supports Facebook and Pinterest and has some amazing in-build design capabilities to create engaging posts.
These designs are entirely optimized as per the demands of the social media platforms. A personalized drag and drop grid is also designed for easy and manual scheduling.
How Can You Automate Instagram Through Social Champ?
Social Champ offers an Instagram management tool for direct scheduling from the dashboard on all business profiles. You can connect your Instagram business account with Social Champ and schedule up to 25 direct posts in a day!
After scheduling, you can view all published and scheduled posts in the Social Media Calendar. From there, you can drag and drop posts to reschedule them to your preferred dates.
With Social Champ, you can also track the analytics with Instagram-specific metrics. The tool generates reports with beautiful charts and graphs to download.
Start Your Free 7-Day Trial Today!
Create, edit, design, and schedule Instagram posts from an all-in-one content composer for weeks, months, and even the upcoming year!
All in All
Automating your Instagram marketing is simple and using Instagram automation tools makes sense, so long as you don't just set it and forget it as most marketers do.
Users are keen on spotting the bots, and Instagram maintains a safe, humane community. So, hack your Instagram growth through automation but never allow bots to take the reins.
People Also Ask:
1. Is Instagram automation allowed?
Instagram automation has been considered an inauthentic activity for several years, and the platform does not allow the automation. However, businesses are using several tools to automate the posts for publishing and expand their reach. You can use these tools to activate automation on a business's Instagram profile without being spammed.
2. How do I get automation on Instagram?
Automation of Instagram is the process of using third-party software and apps to manage the Instagram profile or account. By using different tools and bots of Instagram automation, you can schedule the posts and likes and generate automated comments. For this purpose, Instagram bots are being used by internet-based brands.
3. Is Instagram automation dead?
No, Instagram automation is not dead in 2022. Organizations are still using Instagram automation tools and bots for postings, likes, comments, and to send direct messages in bulk. For businesses, the Instagram automation tool is used for growth, and nothing has changed in 2022 in terms of Instagram automation.
4. Are Instagram bots illegal?
No. Instagram bots are not illegal to use, but the platform itself does not allow to incorporate these tools. Instagram is very competitive, and the idea of using Instagram bots to gain more followers and likes is quite tempting. Instagram bots are not illegal to use, but they may not produce the desired results for the audience.